A self-development fun game for couples (but also individuals and groups)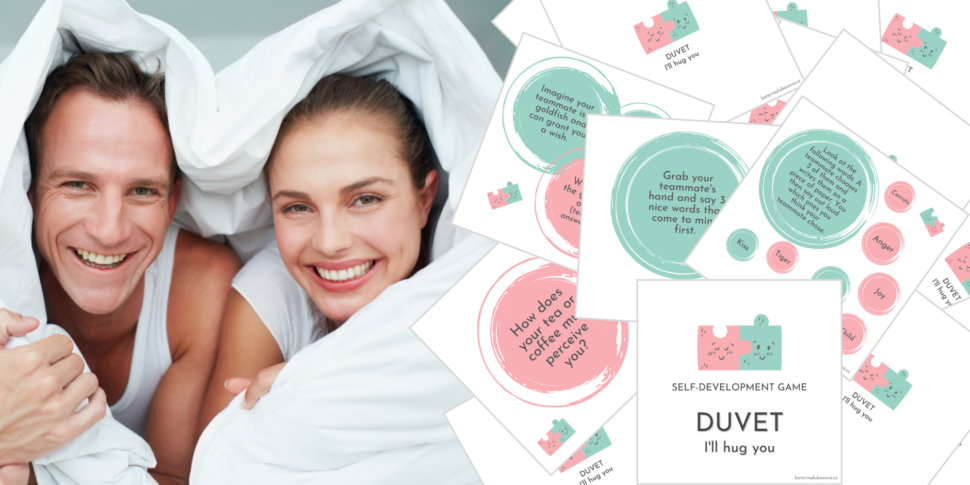 Do you want to be closer to your partner or yourself? Try to perceive and show empathy and compassion (but not to be confused with regret!). Compassion means that your loved one notices when you have trouble or pain, they try to empathize with you and understand you. He can hug you, listen to you or just be there with you and your feelings. You can do the same for yourself.
The self-development game Duvet leads to hugging, respect, sharing and a feeling of security. It is full of questions and tasks, thanks to which you will find ways to show compassion for yourself or your partner. You will take care of, perceive and learn how to be kinder to each other. And all this in a fun way to play.
I was looking forward to this game. As the name suggests, we can say with a bit of exaggeration that it is a "seal game". There are a lot of tasks where the couple hugs 🙂 I think this game can also put quarreled pairs together and the pairs who are at the beginning of the relationship can get to know each other better. It is certainly positive for each of the couples separately. One pauses at least for a moment and realizes the things that come and go. Or if he can't change something for the better in his life or directly on himself.
The game is available in two variants
Printable cards and an online version (or both)
You can purchase the classic version of the game and print it out yourself. You will receive access to the printable pdf in your email and you can simply print the cards, cut them out and have them handy at all times, regardless of internet access.
The other option is an online version that you can play from your computer, mobile or tablet. You will receive the access details for the members' section in your email. You can access the game anytime, anywhere.
Online access (computer, mobile, tablet)
Print pdf (requires printing and cutting out cards)
Both variants
Printable pdf and online access
You will receive your access to the game to the email address provided immediately after payment has been credited to your account.